Don't "just cross that bridge"
when you come to it.
Cover and protect it.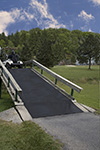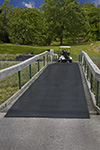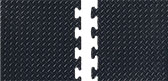 Click on any image to see it full size.

Easily installed over existing or new planking, concrete, or blacktop, BridgeRunners eliminate costly repair or maintenance and give a new face to damaged areas while preventing further wear.

The diamond grid surface provides excellent traction under wet and dry conditions, whether you are walking, pulling, or riding. Available in widths up to 6' and lengths up to 16'. Sections can be interlocked with optional tabs for longer applications. Nylon-reinforced genuine rubber BridgeRunners are non-porous and will not absorb moisture. The will not crumble, peel, or crack even under extreme weather conditions.


Disc Golf Mats – MighTEE PADS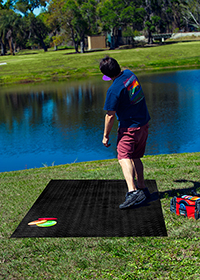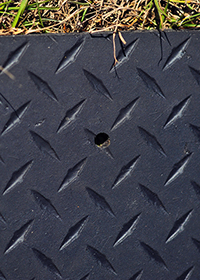 Click on any image to see it full size.

Our extra thick, heavy-duty MighTEE PADS are perfect for disc golf courses! Our most common sizes are 5' x 10' and 6' x 12'; however we can custom cut any size up to 6' x 16'.

Unlike traditional concrete, MighTEE Pads are far less expensive and require virtually no preparation for installation. They are simply placed over any level surface and will lay flat without curling. Edges blend into the surface to minimize the drop off. Holes are provided for optional securing in place with a ground stake or a lag bolt with wooden substructure. For maintenance or to change a tee position, they are easy to move and relocate.
A sure-traction non-skid grid surface provides excellent footing under both dry or wet conditions.

These nylon-reinforced, genuine rubber pads are the same product that we use to cover golf course bridges, install in horse stalls, and use in fitness centers. They are non-porous and will not absorb water from rain or sprinklers. Impervious to extreme heat or cold temperatures, they will not crack or crumble. LRP Solutions, Inc offers low, factory-direct prices and outstanding nationwide freight rates.