Make Horse Sense:
Turn your stable into a clean, fresh showplace!
LRP Solutions, Inc Soft Stall Mats are easily installed over concrete, natural soil, asphalt, clay, wood, and virtually every other surface imaginable. Our Deluxe Soft Stall mats not only provide insulation, but they eliminate the need to repair a barn floor by adding dirt, screenings, or other costly fillings.
Eliminate the cost and headaches of bedding
Reduce the cost of shavings, straw, or sawdust by up to 75%. The savings in bedding material and cost of their disposal typically offset the cost of material in 2 years or less. Bedding will not stick to the top side of the mats, and dust problems are eliminated.
Provide a safe, healthy environment
Designed with non-slip surfaces, Soft Stall Mats provide a natural, solid, and secure footing to reduce leg, knee, and hoof fatigue. Scuffed hocks and hoof abrasions are virtually eliminated.
Easy to maintain
Cleaning is easy! Simply mop with a mild detergent and water, or similar disinfectants. (If using lime, use in moderation and mix with a small amount of bedding to avoid a pasty, slick surface when wet). It is not necessary to remove the mats when cleaning or disinfecting.
All LRP Solutions, Inc Mats are genuine rubber
Genuine rubber is non-porous and will not absorb moisture, urine, cleaning solutions, or disinfectants. Mats will not peel, crack, curl, or crumble, even with extreme changes in temperature. Other mats in the marketplace are often fabricated with rubber dust or crumb rubber, which is held together with clay, glue, and other fillers. Unlike genuine rubber, recycled rubber has the potential to break down, chemically erode, and become absorbent with use over time. Choose the LRP Solutions, Inc Mat that best fits your needs for stalls, alleyways, grooming areas, wash racks, and trailers:
Soft Stall Mats
Alleyway Mats
Econo-Mats
Ring Mats
"Soft Stall" Mats

Click on any image to see it full size.




Our Pride and Joy! The Soft Stall Mats are the largest mats of their type in the industry. Typical installations only require 2 pieces for most stalls to simplify installation and minimize seams.


Standard Sizes include:
10 x 10
10 x 12
12 x 12
12 x 14
12 x 16

Custom sizes are also available.
Once installed, these 5/8" thick (approximate) mats stay in place, and will not shift, even under the heaviest of traffic. The Sure-Traction grid surface on these nylon-reinforced rubber mats provide excellent protection.


Ring Mats
Click on any image to see it full size.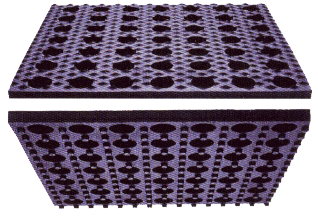 For wet surfaces where traction is a must

For wash racks and breeding areas, these non-porous rubber mats are perforated with 1" holes so water, liquids and solid debris drain quickly and easily. Hundreds of nubs on the underside provide comfort and anti-fatigue qualities which allow air circulation freely to evaporate any moisture. 3.28' x 4.92' x 5/8" thick.


Stall WallGuard
Click on any image to see it full size.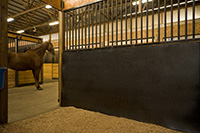 High-grade genuine rubber panels mount to walls in stalls and trailers to prevent kick-related injuries to legs, knees and hooves. 48" high, in lengths up to 200' or custom cut for your particular installation. Wallguard is 1/4" in thickness, extremely flexible, and can bend at the corners for easy wrap-around installation.





Alleyway Mats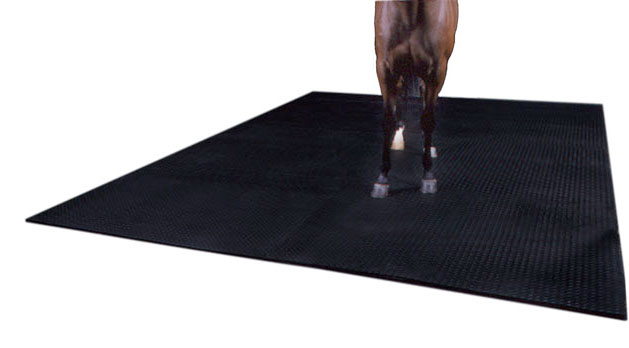 Our Alleyway Mats are essentially the same fabrication as our Soft Stall Mats, and they are precut in modules. For example, when using 12' x 6' modules, a 12' x 48' area can be covered using only 8 pieces, and a 12' x 60' area would use only 10 pieces. Optional interlocking tabs can be cut on the ends, sides, or around the entire perimeter for a more stable, permanent installation.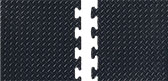 Econo Mats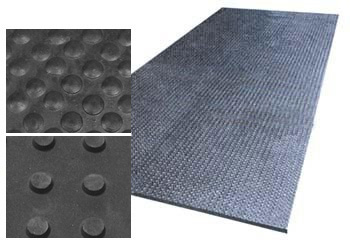 Slightly thinner and lighter mats, the Econo-Mats are perfect for installations where a tight budget or specific application is a consideration. Econo-Mats are 48" x 72" with a raised nub on the underside that "works" into the surface (natural soil, asphalt, and compacted material such as limestone screening, crushed stone, clay, or wood) to secure the mat and prevent shifting or sliding.



Pick the mat best for your installation area: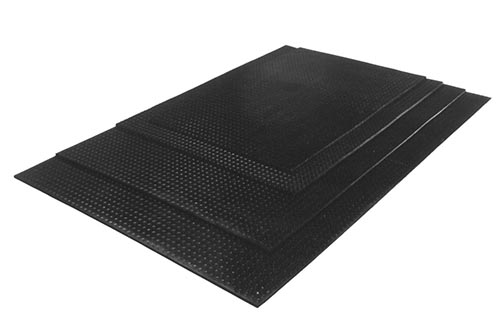 Please note: All thicknesses are approximate.